Family Owned & Operated!
ECC offers both commercial and residential heating and AC (HVAC) sales and service.  ECC is located in Dacula, GA and we service all surrounding areas in Metro Atlanta.  Call 770-544-8761 to schedule service or for any questions you may have, or click the button below to complete our online service scheduling form.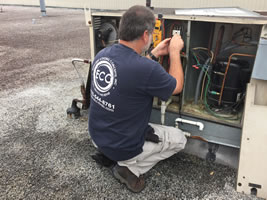 Efficient Cooling Concepts, Inc. is here to help you with all your Heating and AC (HVAC) service needs.
We will diagnose your entire house or business and recommend solutions that will provide you and your family with the most energy efficient home possible. Whether you need your air conditioner serviced or replaced, or complete heater replacement services, ECC is here to help. We offer quality installation, repair, and maintenance services for businesses and homeowners. ECC services all your Air Conditioner and heater repair (HVAC) problems in Gwinnett and surrounding areas including Dacula, Buford, Lawrenceville, Loganville, Snellville, Suwanee, Duluth, Norcross, Winder, Grayson and Loganville. To schedule your residential or commercial HVAC service, call 770-544-8761 or complete our online service schedule form.
Frequently Asked Questions
At what temperature should I set my thermostat?
Temperature settings depend on the time of year and your personal preferences. In the summer, the average temperature setting is 73°- 80°. In the winter 68°- 72° is the norm. Remember, when leaving your house; try to avoid drastic temperature changes. Do not set your temperature back more than 5°; this will cause your unit to work harder to achieve the desired temperature setting.
How can I increase the efficiency and life of my home's heating and cooling systems?
Clean and replace your filters frequently.
Your system will heat and cool more evenly when the blower is in the "on" position. The blower provides constant air movement throughout the home, and allows for better filtration.
Install shades, drapes, shutters, or screens on windows that are exposed to extreme sunlight to keep room temperatures at moderate levels.
How do I know if my A/C unit is big enough?
Bigger isn't always better; its performance and efficiency that count. Before purchasing a replacement system you should always make sure your system is sized properly to match your needs and budget. Your ECC specialist will thoroughly assess your home and comfort requirements to determine the proper size and make the appropriate recommendation.
How do I know if my system is working properly?
Is it making strange noises? Is it cooling or heating all areas of your home sufficiently? Has it been taking longer to cool down or heat up? Have your utility bills been rising for no apparent reason? Any of these are signs that you may have a problem that needs service. In most cases, the longer you delay, the worse any underlying problems will get. So be sure to contact ECC to check out your system whenever you notice anything out of the ordinary.
How often should I replace my filters?
In general, ECC recommends that you replace your disposable filters at least once every three months, as the season changes. If you have washable filters, they should be cleaned once a quarter. Your ECC service technician will recommend a replacement schedule that delivers the optimum efficiency and filtration for your specific system. With an ECC PM Service Plan, we clean and inspect your HVAC system twice each year. Part of the service includes changing the filters or servicing your filtering system. Unless you have special circumstances, our service should be adequate. We recommend that you visually check filters and filtering equipment monthly. If filters look dirty, they need to be cleaned or replaced.
Should I try to keep my air conditioning system from running too much?
Generally speaking, a unit that is either on or off is less expensive than one that keeps cycling on and off repeatedly. Every time your system starts up, it will use a lot of electricity and not produce much cooling. That's why a smaller system is often more economical to operate: even though it runs nonstop and may deliver less comfort, it will usually consume less power than a larger system that cycles on and off.
Contact Us
We are located in Dacula and we service all surrounding areas.
Office
2682 Amberly Glen Dr 
Dacula, GA 30019